Verden is different to anywhere you've ridden.
We believe that every ride should be under instruction so that you can achieve your goals faster, with correct form. And we've built a lesson package to match. Whether via individual instruction or group lessons, Verden will take your ride to the next level. Verden specializes in coaching intermediate riders, those who want to start showing, and those who want to switch from hunters to showjumping.
Thomas Friedrich
Owner + Head Trainer
While training with Fritz Schellmoser, Ottokar Pohlmann,
Prince von Auersberg, and Ulli Salig, Tom competed in prestigious competitions across Europe - including Grand Prixs in Brataslava, Eindhoven, Wein, Donaueschingen, Salzberg, and Riem. His travels took him around the world including Hong Kong, the middle east, and Europe before settling in the US
permanently in1993.
ASSISTANT TRAINER
A lifelong rider, Abby has shown in Dressage, Eventing, and Jumpers. At 18, she took her Massachusetts Riding Instructor exam and has
since been helping beginner riders move up through the ranks into the show ring for Verden Stables.

BARN MANAGER
Rocque studied English at the University of Northern Colorado. He left to pursue his dream of being a writer. During a visit in 2016, he found his second love – horses. Opting to stay with Verden Stables, where he can still write daily, he started under the tutelage of Abby to learn horse management, stable management and farm management.
Single Lesson - $50 - $75
Package of 10 Lessons - $450+
Unlimited Monthly Lessons - $550 / month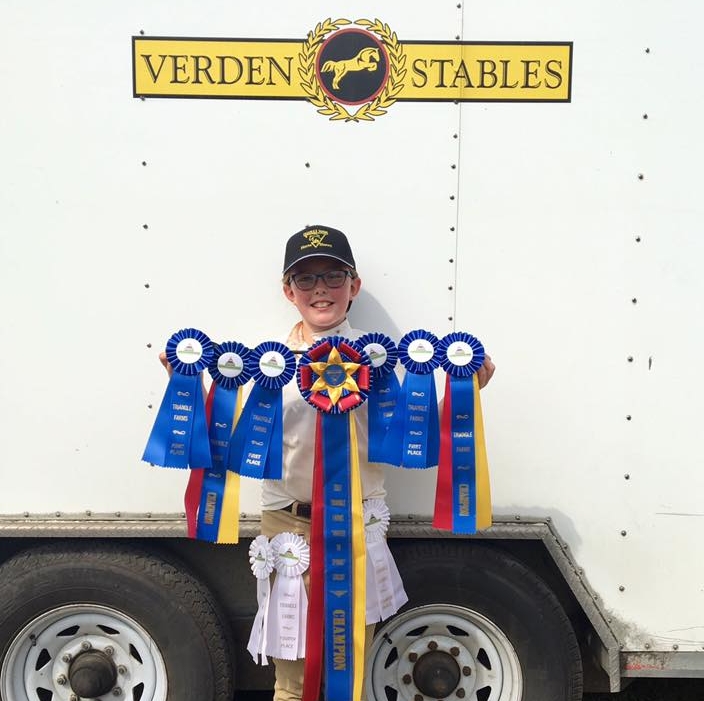 Our supportive show team is open to all riders training with Verden who actively show. The team provides opportunities for those just starting to compete, as well as those advancing through AO and Grand Prix level.
The Verden Show Team spirit and camaraderie ensures that all riders have fun as well achieve success.